Global Affiliate Network for Software & Digital Goods

Join our premium affiliate network for digital goods and services for global distribution. Establish your brand with our powerful tools and support.
Avangate Ranked The #1 Affiliate Network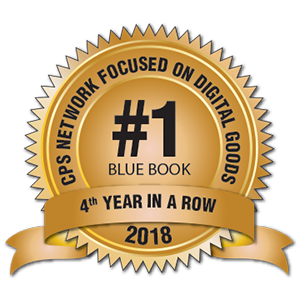 Focused on Software and Digital Goods and #4 CPS Network Overall (2015, 2016, 2017, 2018 BlueBook)
Leverage a growing database of 22,000+ software products, advanced marketing tools and expertise and the industry's highest commissions. And select best-selling titles that align with your content - all while enjoying flexible and complete payment for each sale booked.
Get ready to enter Avangate's Affiliate Network Affiliate Sales Wars and WIN BIG! An impressive $6,000 are up for grabs! We've gathered offers from our best selling vendors for you to promote and bravely enter the contest. Prepare for battle!
The prizes are as follows:
- Network Master - 1 prize x 3,000 USD - The Affiliate with the highest number of orders during the contest period (November 1, 2018 - January 31, 2019) wins!
- Network Knight - 1 special prize x 2,000 USD - this place will be occupied by the affiliate with the highest incremental sales increase.
- Young Padawan - 1 special prize x 1,000 USD - in this group are included only the affiliates who signed up during the contest and who have at least one sale. The winner will be randomly selected.
Avangate Affiliate Network Benefits

Get started in no time!
Becoming an Avangate affiliate is easy and free: the sign-up process takes a few minutes before being approved in the network and there are no hidden costs. Rest assured you'll quickly become accustomed to our intuitive platform.

Earn a steady revenue flow
Once you establish partnerships with vendors that match your business, you can start cashing in! Our merchants have set commissions of up to 75% and constantly have special bonuses for their affiliates - in other words, if you perform well you'll be rewarded. You will also get paid for license renewals.

Convert your traffic!
Your affiliate account includes useful creative to boost sales, like banners, data feeds, and other marketing materials. You can also seek strategic guidance from one of our affiliate experts: just send an email to affiliates@avangate.com for help.
Be in control!
There are many other resources to help you grow your business: on-the-fly reports with detailed figures, weekly newsletters with fresh offers and a dedicated support team that is here to help you 24/7.
Check Out These Resources to Learn More