Up to 75% Commission for Top Affiliate Products
Reper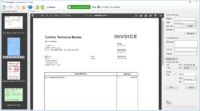 Scan2Invoice is the scan button for your cloud accounting software like Quickbooks Online and Xero. Simply scan, extract data and upload your invoice in one go.
The visitors that come to us from your site are traced for at least 30 days, so if they buy even in a month or two, you will still get your money from the sale.
We will provide you with banners and links to use on your site. All you have to do is place them so that they are easily noticed by your visitors, then start counting monthly revenues.