Affiliates Success Stories
Soft32-Power Affiliate
Relationship between affiliate and network drives performance.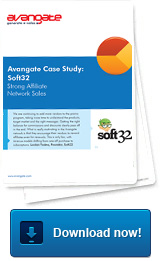 "We are continuing to add more vendors to the promo program, taking more time to understand the products, target market and the right messages. Getting the right balance for commissions and discounts clearly pays off in the end. What is really motivating in the Avangate network is that they encourage their vendors to reward affiliates even for renewals. This is only fair, with revenue models shifting from one-off purchase to subscriptions," Lucian Todea, Founder, Soft32.

Context and Solution
Soft32 is a Power Affiliate in the Avangate Affiliate Network and the winner of the 2012 Avangate Affiliate Sales Contest. Soft32 generates over 10 million downloads each month. This case study showcases Soft32's successful vendor campaigns in the Avangate Affiliate Network as a result of the close collaboration with Avangate.
Results at a glance
40% increase in the number of orders compared with the previous month, making Soft32 the top Avangate affiliate in May 2012;

5 fold growth in Avangate network sales volumes in 6 months, between March and August 2012;

83% increase in affiliate conversion rates within the same 6 month interval;

300% increase in online sales for participating software vendors;

Soft32 won the Avangate yearly Affiliate Sales Contest for 2012 and participated with Avangate at Affiliate Summit East 2012 in New York, USA.
Download the full Soft32 case study here.
Read more Avangate client success stories.